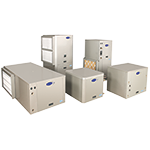 The Earth absorbs almost 50% of all solar energy and remains a constant temperature of 50°F to 70°F depending on geographical location. A geothermal unit utilizes this constant temperature for heating and cooling your home.
You can realize up to 60% energy savings vs. traditional systems. There is no flame, no flue, no odors and no loud outdoor equipment. Heating, air conditioning and hot water can all be attained from a single compact unit.
Geothermal Energy - Start Saving Now
Geothermal Heating and Cooling
House Sq.
Footage
Geothermal
Utility Bill
Your Bill
Today
2000 SQ Feet
$600
$4000
3000 SQ Feet
$900
$6000
4000 SQ Feet
$1200
$9000
5000 SQ Feet
$1500
$12000
Utility Bills Are Going Up
GeoThermal pays for Itself
Geothermal Energy - 4 Main Parts:
a heat pump
a ground loop
a heat transfer fluid (water or antifreeze solution)
an air distribution system
When installed correctly, geothermal systems generally require very little repair for 20-25 years. For optimal performance, homeowners should keep system ducts and air filters clean, and change / clean filters according to the manufacturer's recommendations.
Geothermal Heating and Cooling - Benefits
Transfer three to four units of energy into a home for every one unit of electricity it uses;
Provide at least two thirds of the energy needed to heat a home. This can lead to savings of 30 to 70 percent of a homeowners heating costs;
Produce less carbon dioxide and atmospheric pollutants than conventional heating and cooling systems;
Run cleaner than traditional heating and cooling systems;
Do not require an additional fuel delivery system to the home in addition to electricity and do not require venting of combustion products from a furnace.
Geothermal Energy - Adding to an Existing Furnace
A dual system can be added to an existing furnace to provide a dual-fuel heating system, where the heat pump is the main source of heating and the combustion furnace provides supplementary heat during extreme cold.
Geothermal Energy - System Noise Control
A geothermal system is one of the quietest systems available. The indoor components are all sound-insulated and sound dampeners eliminate vibration noise where the pump connects to the ductwork. The minimal noise produced by underground components is undetectable to the homeowner.
How to Choose the Right Geothermal Contractor
You will need an HVAC dealer to size and install your geothermal heat pump on the inside of your home. You will also need a quality geothermal loop installer to do the outside work and bring the piping in to your furnace.
Some important things to consider in choosing the right geothermal contractor:
The United States Dept of Energy states "because of the technical knowledge and equipment needed to properly install the piping of a geothermal heat pump system, installation is not a do it yourself project.
Don't assume that all installers do work of equal quality.
Make sure your furnace installer has done a thorough heat/loss calculation on your home. This will take into consideration all factors -home location, number of windows, number of doors, depth of insulation, and other factors in determining the size furnace and loop field you will need.
Quality HVAC dealers run a detailed, computerized heat/loss program to determine size of loop and furnace that will most efficiently run in your home. If your HVAC dealer says "I can eyeball that" or "from my experience I believe your house needs a 4 ton" - Run away ... far, far, away! Demand a quality loop contractor. Most loop contractors sub out to the homeowner or HVAC dealer and it can be your decision which loop contractor you would like to employ.
Check both the HVAC and Loop Contractor's qualifications (IGSHPA - International Ground Source Heat Pump Association) and affiliations. Years in business, years in geo, number of installations, and customer testimonials are also very important.
Don't be afraid to ask questions. Most geothermal contractors are a wealth of information. Take a little time to do research online, jot down some notes and then spend time getting comfortable with your installer.
Hope these suggestions are helpful. You'll be glad you did your "homework" as you enjoy a new, properly sized and installed, efficiently running, geothermal heating and cooling system.
All-In-One Geothermal Product Offering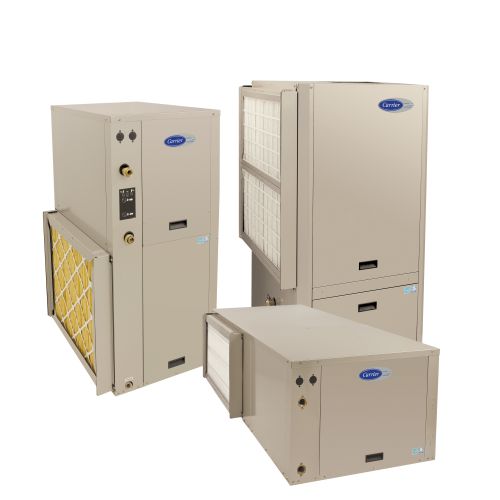 Infinity® Series Geothermal Heat Pump
View Brochure
Model Family: GC
Closed Loop Cooling Efficiency: Up to 32.0 EER
Closed Loop Heating Efficiency: Up to 4.7 COP
Energy Star Rated: ENERGY STAR®
Refrigerant Type: Puron®
Sound Level: Quiet operation
Blower Motor: Variable-speed blower
Compressor: Two-stage compressor
Factory Warranty Parts: 10 year parts limited warranty 5 year labor limited warranty
Factory Warranty Compressor: 10 year parts limited warranty 5 year labor limited warranty
Manufacturer's Stated Benefits:
Open loop cooling: Up to 37.0 EER
Open loop heating Up to 5.2 COP
Summer dehumidification is compressor and blower motor enhanced
Excellent cold weather performance
Sound enhancements: Fully insulated cabinet, compressor blanket and double-isolation compressor mounting system
Microprocessor control board
Recommended control: Infinity control
Optimal humidity and temperature control when managed by the Inifinty Touch control
Large operating temperature range
Corrosion-resistant air coil for long life
Stainless steel drain pan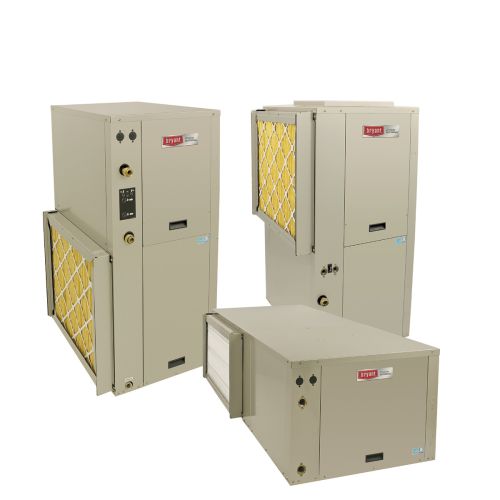 Performance™ Series Geothermal Heat Pump
View Brochure
Model Family: GP
Closed Loop Cooling Efficiency: Up to 24.5 EER
Closed Loop Heating Efficiency: Up to 4.0 COP
Energy Star Rated: ENERGY STAR ®
Refrigerant Type: Puron®
Sound Level: Ultra quiet fan sound levels
Blower Motor: Variable-speed blower motor
Compressor: Two-stage scroll compressor
Factory Warranty Parts: 10-year parts and labor limited warranty upon registration
Factory Warranty Compressor: 10-year parts and labor limited warranty upon registration
Manufacturer's Stated Benefits:
Summer dehumidification is compressor and blower motor enhanced
Excellent cold weather performance
Sound enhancements: Fully insulated cabinet, compressor blanket and double-isolation compressor mounting system
Comfort Alert™ compressor diagnostics
Microprocessor control board
Recommended control: Performance™ Edge® relative humidity thermostat
Heavy-duty, galvanized steel cabinet
Baked on urethane base coat and polyester top coat paint in taupe metallic
Large operating temperature range
Corrosion-resistant air coil for long life
Stainless steel drain pan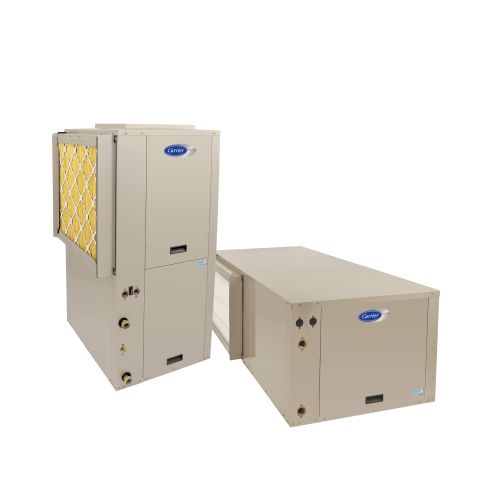 Comfort™ Series Geothermal Heat Pump
View Brochure
Model Family: GB
Closed Loop Cooling Efficiency: Up to 21.7 EER
Closed Loop Heating Efficiency: Up to 4.3 COP
Energy Star Rated: ENERGY STAR ®
Refrigerant Type: Puron®
Sound Level: Quiet operation
Blower Motor: Multi-speed blower
Compressor: Single-stage scroll compressor
Factory Warranty Parts: 10-year all parts and 5-year labor limited warranty upon registration
Factory Warranty Compressor: 10-year all parts and 5-year labor limited warranty upon registration
Manufacturer's Stated Benefits:
Excellent dehumidification and temperature control
Insulated cabinet for quiet operation
Large operating temperature range
Corrosion-resistant air coil for long life
Stainless steel drain pan
Microprocessor control for precision operation